Accounting Stamp
– Design and order yourself with templates
An accounting stamp is an often used tool in business accounting. The stamps are divided into tables and can also be delivered with a date function. Common entries on accounting stamps are for example payment method, account assignment, cost center or invoice regulation. At arial.ch you can design your accounting stamp according to your personal needs!
Accounting Stamp
– Design and order yourself with templates
Accounting Stamp Templates
In our shop you will find numerous templates for your accounting stamp. Different labels such as SOLL, HABEN or KONTO are available as well as versions with completely individual texts. Of course, you can easily design all templates according to your personal ideas. Your individual accounting stamp is only a few clicks away!
Accounting Stamp
– Design and order yourself with templates
Order accounting stamps online
Accounting stamps are complicated and difficult to create? On the contrary! With us you can order your personal accounting stamp very easily online. The design according to your personal ideas is very easy and quick with the help of our many templates. The delivery will take place immediately after completion. Of course, online ordering of accounting stamps with date function is also possible. A great thing!
Accounting Stamp
– Design and order yourself with templates
RECEIVED, BOOKED, PAID
Accounting stamps with many templates for easy individual design are available from us. Our online shop guarantees best quality, fast delivery and personal customer service!
Back
Forward
Accounting Stamp
– Design and order yourself with templates
BOUGHT!
I bought my accounting stamp here. I was convinced by the large selection of stamps, the very good templates and the simple design. Goods were delivered promptly. Super quality.
Questions and answers
Yes, you can. We offer a large number of templates that you can use as a start for your own design. If you need help designing your table, you can find some videos with instructions in the online help.
Yeah, that's no problem. You have two possibilities to order an accounting stamp with PDF:
Choose "Stamp with file upload" and follow the process. You will be offered suitable stamp models, depending on the size of the uploaded design.
First select the desired stamp, then click on "Order with upload of a file" above and follow the process. If your design is larger than the selected stamp model, it will be adjusted to the size of the selected model.
In principle, any model can be ordered as an accounting stamp. Ideally, you should choose the model that best fits your design in terms of size. You can enter the desired size in the search above, or you can choose a design in the desired size from the templates here. The system will then recommend suitable models.
The most important thing with an accounting stamp is that the fields are large enough for your entries. To check this, download a PDF with your design in original size using the PDF button in the design interface and print it out in full size. This way you can see how large the imprint will be and try out whether the size fits your entries.
Accounting stamps without date
– Some examples from our production
All customers have given us their consent to show their ordered stamp here. Thank you very much for this.
Account assignment stamps have to be one thing above all: practical. With us, just like this customer, you can put together your very own personal account assignment stamp that fits your needs exactly.
This complex but well thought-out booking stamp was created from A to Z with our online editor.
A compact and clear booking stamp, designed with our table module.
This booking stamp, completely created on our design interface, is clearly arranged and contains all necessary details.
A booking stamp can also be embellished and personalised with the company logo. If you experience problems uploading, please contact customer service with your logo and we will be happy to help you.
Even if your booking stamp is complicated, almost anything is possible with us!
This template, completely created on our design surface, was certainly not easy. But the effort was worth it! It is clearly arranged and contains all necessary details.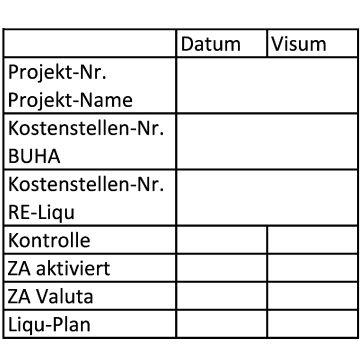 Accounting stamps in larger sizes are also possible with us without problems. The customer uploaded his own design and had a 60x60mm stamp produced from it.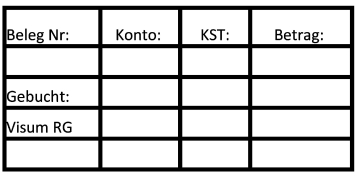 Soon a new year will start, for that you might need a new booking stamp. The customer uploaded his Excel design and used it to create his personal stamp adapted to the situation.
Further information on the subject
Accounting stamps without date
At arial.ch you can easily and quickly create accounting stamps without date. Use our online editor and use one of our templates to design the perfect accounting stamp for your business accounting.
We needed new accounting stamps for our accounting department. This website was recommended – To us the No. 1 for accounting stamps – Because the shop has an online table set. That tip was worth its weight in gold!
Design individual accounting stamps yourself
Every company has very specific requirements for its perfect booking stamp. With us, these wishes can be implemented easily and quickly. You simply choose the right stamp from our range and individualise it with our online editor. As a special service, you will benefit from a unique online table set in our shop. The personal accounting stamp for your company will succeed in no time at all!