Address stamp with frame
– Design and order online
The address stamp with frame is a great helper in the office and for those who like – Private or business – Write a lot and often specify your address. The frame stops the address and gives it the necessary attention. Whether on the envelope, the stationery, at the end of a document or in ready-made brochures and flyers: the address stamp with frame immediately gives an individual touch and provides all important contact information.
Address stamp with frame
– Design and order online
Address stamps – Individual in top quality
arial.ch is your online shop for address stamps in all design variations. Many design possibilities are open to you: as round stamps, with or without frame, with 1-8 lines. Design online now!
Back
Forward
Address stamp
– With my upbeat logo
My address stamp was getting old and a bit boring. I was looking for an alternative where I could integrate my upbeat logo. At arial.ch I found a – First-class shop!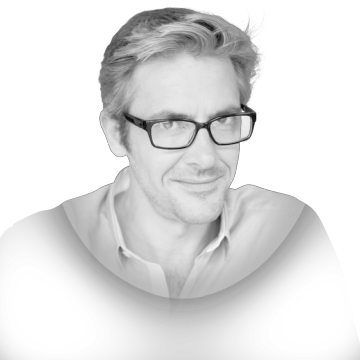 Address stamp orders of our customers
– Some examples from our production
All customers have given us their consent to show their ordered stamp here. Thank you very much for this.
Address stamp with frame – 7 Examples of orders
The text of this multi-coloured stamp was chosen to match the general appearance of the company.
The tension that arises between the two fundamentally different fonts used makes this simple address stamp something very special.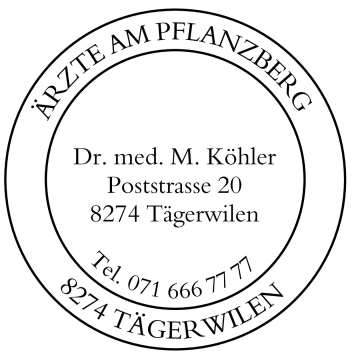 The address is beautifully framed by the online designed roundel.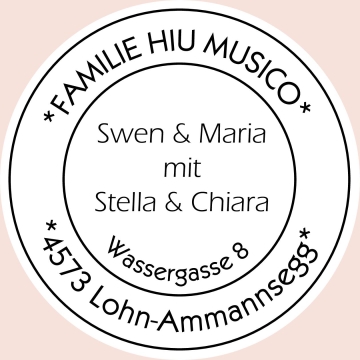 A special variant of the classic address stamp. The address in the round and the chosen font appear extraordinary and elegant.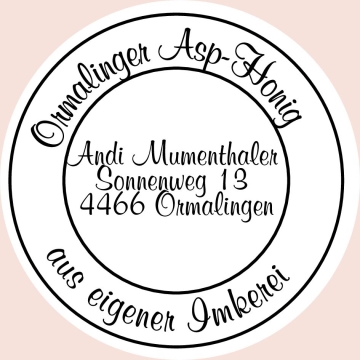 For a lasting impression: an expressive round stamp with address. We congratulate on the successful design!
Your own uploaded logo stylishly combined with a text sentence. The design was combined with a frame, which gives a self-contained effect.
The tension that arises between the two fundamentally different fonts used makes this simple address stamp something very special.
Questions and answers
Yes, you can. We offer an extensive range of fonts and formatting options, you can design your own personal address stamp in no time at all, simply and easily.
Yeah, that's no problem. You have two possibilities to order an address stamp with PDF:
Choose "Stamp with upload of a file" and follow the process. You will be offered suitable stamp models, depending on the size of the uploaded design.
First select the desired stamp, then click on "Order with upload of a file" above and follow the process. If your design is larger than the selected stamp model, it will be adjusted to the size of the selected model.
In principle, any model can be ordered as an address stamp. Ideally, you should choose the model that best fits your address in terms of size. You can enter the desired size in the search above, or you can choose a design in the desired size from the templates here. The system will then recommend suitable models.
If you use the address stamp to address letters or as a sender's stamp, there are some postal regulations. These can be found at www.post.ch/briefgestaltung. Apart from that, you are completely free to design your personal stamp.
If you have chosen a design with a frame and later decide against the frame, you can simply click on it and delete it.
Further information on the subject
An address stamp is a text stamp that can be used to easily stamp addresses. But an address stamp can do much more. You can use it to provide letters, envelopes, documents or even files with an address not only easily but also extremely time-saving - whether for business or private use.
What many don't know: The layout and form of an address is subject to the DIN standard DIN 5008. Detailed information on the current standardization can be found at http://www.din-5008-richtlinien.de. Good to know: According to the current standard, there is no longer a blank line between the street name and the city name. This means that the address stamp for a letter item within Switzerland looks like this:
Benedikt Mustermacher
Sample path 123
5000 Aarau
The DIN standard DIN 5008 also contains a change regarding the country specification. Country abbreviations (e.g. CH, DE) are no longer used. Instead, the full name of the respective country, often in capital letters –, is inserted directly below the location.
Example:
Benedikt Mustermacher
Sample path 123
5000 Aarau
Switzerland