Motivstempel
– Design and order online yourself
Words are not everything. The human eye likes to see pictures. Many apps or websites use icons to navigate and guide. So why not design a stamp that also combines graphics or icons / motifs with text? Stamps that combine text and graphics / motifs are very popular. The look "sticks" to them, because the stamp just does not seem so sterile and sober. He does exactly what he should do! Order a motif stamp online now!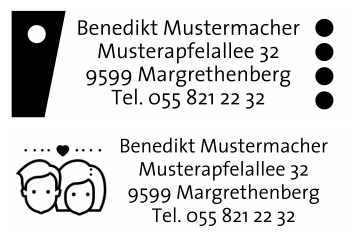 Motivstempel
– Design and order online yourself
Making your own motif stamp
Well-made motif stamps attract attention and catch the eye. When motif and text are perfectly combined, the impression remains in the memory. The easiest way to do this is if the stamp offers a little more than just three lines of text. With the combination of icon and text you set characters.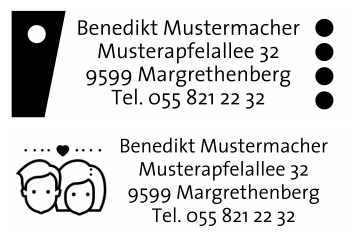 Motivstempel
– Design and order online yourself
Motif – Stamp delivery whole Switzerland
We deliver our motif stamps all over Switzerland at very fashionable postage costs. So why not order his motif stamp online and buy it in Switzerland?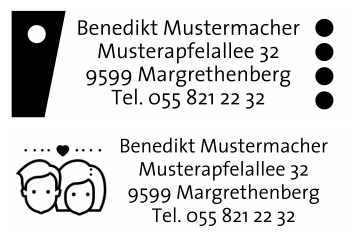 Motivstempel
– Design and order online yourself
Many motifs for stamp – Animals, celebrations, a heart, ...
Whether animals, Easter, a heart, a bee or any other motif: you are sure to find something here. If you would like to be creative yourself or have an unusual idea, you can also find it in the "photo stamps" section. There you can create your individual stamp using our online editor.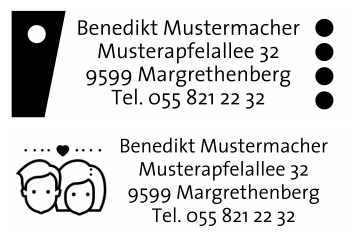 Back
Forward
Click below to «Motivstempel» select the template that is closest to your desired stamp. In the online editor, you can then customize the text and change the font size and style. You can also upload an additional graphic. Afterwards you can «Motivstempel» order it. Nothing suitable? We would be happy to create a template for you.
Write to our customer service.
Motivstempel
– 3 Templates for selection
Select this option if you have a finished graphic file or if you want to use the template «Motivstempel» in Word, Excel or PowerPoint. You can upload the following formats: EPS, PDF, PSD, DOC, XLS, PPT We also provide files in the correct format for the «Motivstempel» most common programs. You can download them, edit them on your computer and then upload them again in the next step.
Motivstempel – With upload of a file
We take care of everything: We will gladly design an individual template in the size from to «Motivstempel» for you. Just send us what you have: Text – Logo – Image – a document – Possibly a photo of the imprint of the old stamp. Our customer service will then take care of the rest. You will receive a design suggestion for the «Motivstempel». Only when you give your OK, we produce the «Motivstempel».
Motivstempel – With full service
Motif stamp
– Some examples from our production
All customers have given us their consent to show their ordered stamp here. Thank you very much for this.
Motivstempel – 9 Examples of orders
A practical logo stamp! With a diameter of 15mm it can be placed anywhere.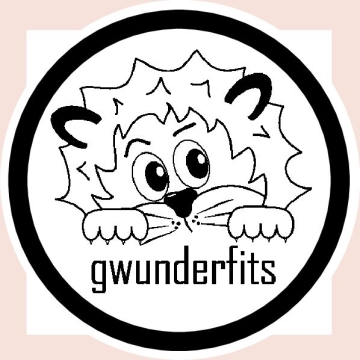 A very cute logo, super suitable for a round stamp!

This stamp design is guaranteed to leave a lasting impression! Very successful combination of log and address.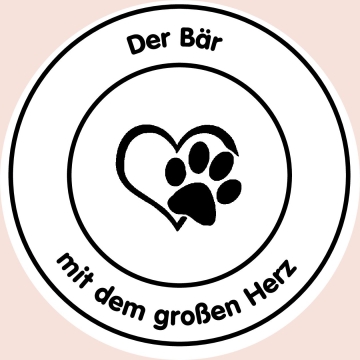 A cute stamp design! The customer has skilfully combined the roundset with her own image.
A very nicely made round stamp. The self-uploaded logo is right in the middle of the online designed roundset.

Especially as a self-employed person, a beautifully designed logo stamp is ideal for drawing attention to yourself!
Why not use a stamp to draw attention to the next theatre performance?

A simple address stamp is immediately enhanced and stands out more if you insert your logo next to it!
An example of how creative a stamp impression can be! The customer uploaded his own art as a finished document and used it for the stamp design.
Further information on the subject
A motif stamp is a printing tool for creative work. You can use a motif stamp to print on a wide variety of materials, such as paper and fabrics, or you can use it as a stamping die to decorate salt dough, modelling clay, or other materials with patterns, text, or letters.
The use of a motif stamp awakens the creative, artistic side in a person. Actually the creative motif stamp originates from the USA, but in the meantime many European children, young people and adults have also discovered this fascinating hobby for themselves.
The dipping stamp is also a kind of motif stamp. What can be stamped with it? Of course motives which are suitable for diving. Divers keep a logbook in which all completed dives are recorded. And so that divers can design their entries as individually as possible, there are diving stamps. Below you can see two common diving stamps with printing examples. For more information just open the following link.
With motif stamps you can design a lot of things. Greeting cards, photo albums, clothes, letter paper, envelopes, even walls can be highlighted by using motif stamps. Motif stamps are also often used by primary school teachers as a reward for good work. And who doesn't like to think back to the good old school days when a dictation was still rewarded with the imprint of a butterfly?